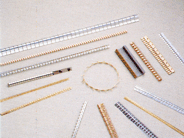 Металлические контактные дорожки- тонкая упругая специальным образом формовонная металлическая лента (бронза, Be-Cu сплав или Stainless Stell).В зависимости от требований металлические контактные дорожки могут покрываться никелем, оловом или золотом.
Finger Strip made of Beryllium Copper(Be-Cu), Stainess Steel or Phrospher Bronze. It depends on the customer's specifications about the marerial and plating material such as Nickel, Tin or Gold plating.
Beryllium Copper Finger provide excellent EMI Shielding due to its high electrical conductivity and its high spring properties when used as a gasket.
Finger Strips also give Shield Effectiveeness Min. 90 dB from 1 MHz to 1000MHz (E-Field).
C17200
ASTM B194
QQ-C-553
SAE J463
AMS 4530, 4532

Heat treatable
Best formability
Highest strength
Best fatigue life
Good conductivity
Nonmagnetic
Cryogenic temps.
No internal stress
Product Information
Cross Section and Dimensions (mm)

P/N (I/S P/N)

Standard Fixing
Method

Standard Plating
Standard
Length
Standard Material

EXF-007

Conductive
Tape

Gold
405mm
162pins
BeCu

EXF-008

(97-958)

Rivet

Nickel
380mm
80 pins
BeCu

EXF-009

Clip
(Panel thickness:
0.8~
1.2mm)

stainess steel
100mm


Very simple and economic

EXP-0010

Clip

Nickel
Prosper Bronze
600mm
80 pins

EXF-0011

Adhesive Tape
Clip(pannel thickness:
0.8~1.2mm)

None
1536mm
128pins
Sus 301

EXF-00121
(97-542)

Adhesive Tape

Gold or Tin
406mm
85pins
BeCu

EXF-00122
(97-521)

Adhesive Tape

Tin
406mm
64pins
BeCu

EXF-00123
(97-515)

Adhesive Tape

Tin
400mm
42pins
BeCu
EXF-0013
(97-974)

Adhesive Tape

Gold
394mm
31pins
BeCu

EXF-0014
(97-606)

Clip
(Panel thickness:
0.8~
1.2mm)

Tin
394mm
31pins
BeCu

EXF-0015
(97-614)

Clip
(Panel thickness:
0.7~
1.2mm)

Tin
400mm
42pins
BeCu

EXP-0016
(97-632)

Clip
(Panel thickness:
1.5~
2.0mm)

Tin
406mm
22pins
BeCu

EXF-0017

Tin
400mm
86pins
BeCu

EXF-0018

Clip
(Panel thickness:
1~
1.8mm)

Tin
398mm
12pins
BeCu

EXF-0019
Series
(=EXFIT)

See page for EXFIT Series

EXF-0020

Adhesive Tape

Slot Mount

Nickel
190mm
40pins
BeCu

EXF-0021
(97-438)

Rivet
Soldering

Tin
5m
BeCu

EXF-001

| | |
| --- | --- |
| • | Use "L"shape with |
| | clip of 71TSG and |
| | 71TS series |
| • | See page 52 and 57 |

EXF-002

EXF-0022