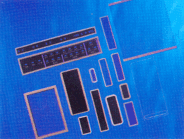 Защитные экраны- специально разработаны(предназначены), чтобы обеспечить максимальную оптическую передачу и защиту от EMI.Защитные экраны состоят из двух слоев оптически прозрачных оснований между которыми проложен слой проволочной сетки.
EX—Windows are specially designed to provide maximum optical transmission and EMI shielding effects. It is consist of two layers of optical substrate with a layer of conductive wire mesh in between separated by two layers of optical transparent substrate.
So. it provide very good EMI Shielding and good optical transparent in any environments.
EX-Windows can be economically matched to most visual display units to minimize image distortion and to maximize shielding effectiveness. The edge termination between the conductive mesh and the enclosure is designed to provide uniform mesh to enclosure continuity by grounding bus method.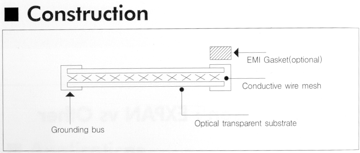 1. Optical transparent substrate

Properties

Material

Glass

Acrylic

PC

Light transmission

92%

92%

85%

Bending Strength

-

115N/mm2

90N/mm2

Temp. Rating

-

85C

115C
2. Conductive wire mesh

Mesh count

Material

Copper

Stainless , Steel

Copper+Ni plated Mesh

Woven #8Q

0

0

0

Woven #135

X

0

0

Woven #250

X

0

0
3. Anti-Reflectivety(Option)
To minimize the glare, anti-reflectivety treatment on the substrate may be done.
Right data have shown the transmittance only for the Anti-Reflectived Acrylic sheet without conductive mesh. When be used conductive mesh, the data will be changed.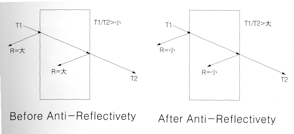 4. Grounding Bus
Electrical continuity between EX-Window wire mesh and equipment enclosure is achieved by means of busbar. Busbar is painted to the shield window by means of a conductive paint.
5. EMI Gasket(option)
EMI Gasket can be provided for a moisture seal, an EMI seal and mechanical seal for any application. If you need EMI gasket, please contact our engineer.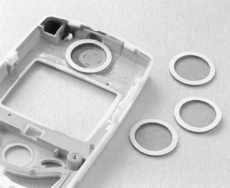 EMI Air Mesh Gasket newly developed by EXPAN is consisted of a conductive EMI cushion, a conductive Air mesh and a conductive tape.
The features of the EMI Air mesh gasket can be filtering dusts and electromagnetic waves through the conductive air ventilation. Also, it provides the absorbing of shocks from vibration and drop in mechanical properties.
EMI Air mesh gaskets are to be easily attached to any applied area where air inflow path and EMI Shielding are necessary. Especially, it is very useful in the speakers of mobile phones and computers.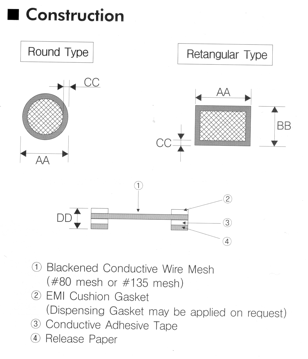 Advantage
Good Shielding Effectiveness
Ecellent air filtering from dust
Looking good in appearence
Absorbing of Shocks from vibration and drop
Easy application
Good ESD perfermance
Application
The area demanding both acostic and EMI properties, such as the speakers of mobile phones and computers.
Heat exchanging holes
Specification
Shielding Effectiveness : Min. 37dB
Surface Resistance : Max. O.lffl-Cm
Contact Resistance : Max. 0.5ffi/25mm2
Rating : Max. 90 °C