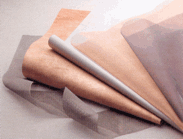 Токопроводящая ткань- покрытая медью нить из полиэстера с или без внешнего слоя никеля (для сопротивления коррозии) сотканное в полотно.
Metalline, that is Conductive Fabric, is coated Nickel and Copper over Polyester Fabrics. The base layer is the highly conductive copper, with or without an outer layer of nickel for corrosion resistance.
Nickel/Copper coated Polyester Fabrics offer excellent surface conductivity, shielding effectiveness, and corrosion resistance for a variety of application. The polyester Fabrics may be Woven type, Non Woven type and Mesh type. Some special case such as shield window which is using conductive mesh for EMI shielding need a conductive black coating instead of a Nickel coating for antireflection of light.
Metalline is recommended to obtain high EMI shielding at frequency range from 100KHz to 10GHz. To improve conductivity and harmless productivity, also provide 24K pure Gold coated Polyester Fabrics.Conductive Fabrics meet UL requirement for flame test (94VTM-0).
Application
Shield Screen, Shield Gasket, Shield Tape, ESD Sheet, Clothes, Tempest Room, Cable Shield, Radar Reflection and etc
CONSTRUCTION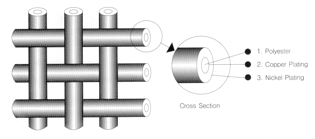 Specification of Metalline (Conductive Fabric)

Part Number

Material (PET) Cons./metal

Width (mm)

Thickness (mm)

Tensile Strength CD/MD(kg)

Surface Resistivity (Q/sq)

Min. Shielding Effectiveness (IGHz)

Remark

M2-Rip CN

Ripstop Cu + Ni

1000

0.09

35/45

£0.08

60

M2-Rip CN-K

Woven Cu + Ni

"

0.1

40/45

£0.08

62

New

New
M2-Rip CN-G

Woven Cu + Au

"

0.1

40/45

<0.07

65

Gold Plating

M2-Rip CN-F

Ripstop Cu + Ni

"

0.12

45/50

<0.08

60

Flame Retardant (UL E206305)

M2-Rip CN-KF

Woven Cu + Ni

..

0.12

50/55

£0.08

62

Flame Retardant (UL E206305)

New
M2-Rip CN-GF

Woven Cu + Au

0.12

50/55

<0.07

65

Gold Plating Flame Retardant (UL E206305)

M4-80 CN

Mesh Cu + Ni

"

0.09

26/31

£0.1

45

M4-80 CB

"

"

0.09

26/31

<0.2

45

Blackened

M4-135CN

"

"

0.09

30/35

<0.1

50

M4-135CB

"

0.09

30/35

£0.2

50

Blackened

M4-200 CN

"

"

0.09

32/38

£0.08

50

M4-200 CB

"

0.09

32/38

<0.1

50

Blackened

M1-40-24 CN

"

0.40

45/50

£0.2

35

Air Filter

M2-Rip CNB

Non Woven Cu + Ni

"

0.25

10/19

£0.08

60

Die-Cut