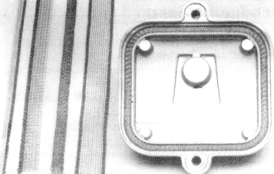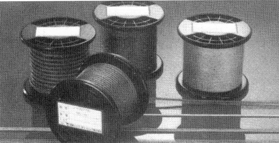 Ïðîâîëî÷íûå ïðîêëàäêè - ñïåöèàëüíûì îáðàçîì ñâÿçàííûå ïîëîñû ïðîâîëî÷íîé ñåòêè.
Wire gaskets are resilient knitted wire mesh strips used EMI gasket to provide EMI Shielding at the joints and seams of electronic enclosures.
Any metal can be produced in the form of wire strip gasket, but standard material is monel wire. To get good shielding effectiveness, the gasket should be deflected Min. 5%.

MTYPE
All metal Gaskets made of Monel knitted wire mesh processed in cord or rope form. It is excellent in corrosion resistance and has good resilience. It gives excellent high Shielding Effectiveness.
Available in RECTANGULAR CROSS SECTION (46M15 to 46M47) and ROUND CROSS SECTION (47M15 to 47M158) and ROUND WITH FIN (48M15-92 to 48M32)and TWO ROUND WITH FIN(49M15-92 to 49M32-158).
For size specifications of each item please refer to our full range products catalog.

SM TYPE
Monel Knitted wire mesh gasket with Silicone rubber tube core. The knitted wire mesh provides electrical conductivity to EMI shielding and the silicone rubber tube core provides excellent compressibility with high degree of resilience. "Housing" can be made compact as there is no need for two grooves consruction. Excellent in corrosion resistance, high degree of resilience, heat resistance and excellent Shielding Effectiveness.
Available in ROUND CROSS SECTION
(43SM15-43SM47) and
TWO ROUND WITH FIN
(56SM32-126/56SM32-158/56SM47-126)
WM TYPE
WM Type wire Mesh gasket(rectangular cross section) and Silicone Rubber(rectangular cross section shaped) are moulded in one piece construction. It has high corrosion resistance, high degree of resilience, high heat resistance. There is no need for making two stages grooves in the Housing and thus housing system can be made "simplified" and "compact"
This is our Item No.WM31 -23
For size specifications please refer to our products catalog.

Item number

W

Allowance

Í

Allowance

46M15-15

1.5

±0.2

1.5

±0.2

46M15-31

1.5

3.1

46M15-47

1.5

4.7

46M15-63

1.5

6.3

46M15-79

1.5

7.9

46M15-95

1.5

9.5

46M15-127

1.5

12.7

46M15-158

1.5

15.8

46M15-190

1.5

19.0

46M15-254

1.5

25.4

46M20-17

2.0

1.7

46M23-23

2.3

2.3

46M23-31

2.3

3,1

46M23-47

2.3

4.7

46M23-63

2.3

6.3

46M23-79

2.3

7.9

46M23-95

2.3

9.5

46M23-127

2.3

12.7

46M23-158

2.3

15.8

46M32-15

3.2

1.5

46M32-23

3.2

2.3

46M32-32

3.2

3.2

46M32-39

3.2

3.9

46M32-47

3.2

4.7

46M32-63

3.2

6.3

46M32-79

3.2

7.9

46M32-95

3.2

9.5

46M32-127

3.2

12.7

46M32-158

3.2

15.8

46M32-190

3.2

19.0

46M32-254

3.2

25.4

46M39-31

3.9

3.1

46M47-15

4.7

1.5

46M47-32

4.7

3.2

46M47-47

4.7

4.7

46M47-63

4.7

6.3

46M47-79

4.7

7.9

46M47-95

4.7

9.5

46M47-127

4.7

12.7

46M47-158

4.7

15.8

46M47-190

4.7

19.0

46M47-254

6.3

25.4

46M63-63

6.3

6.3

46M63-79

6.3

7.9

46M63-95

6.3'

9.5

46M63-127

6.3

12.7

46M63-158

6.3

15.8

46M63-190

6.3

19.0

46M63-254

6.3

25.4

46M79-79

7.9

7.9

46M95-95

9.5

9.5

46M95-158

9.5

15.8

Item number

W

Allowance

Í

Allowance

48M15-95

1.5

±0.2

9.5

±1.5

48M15-126

1.5

12.6

48M15-158

1.5

15.8

48M15-190

1.5

19.0

48M23-95

2.3

9.5

48M23-126

2.3

12.6

48M23-190

2.3

19.0

48M32-92

3.4

9.5

48M32-126

3.4

12.6

48M32-158

3.4

16.51

48M39-127

3.9

12.7

48M39-190

3.9

19.0

48M47-111

4.7

11.1

48M47-127

4.7

12.7

48M47-158

4.7

15.8

48M47-190

4.7

19.0

48M47-222

4.7

22.2

48M63-127

6.3

12.7

48M63-158

6.3

15.8

48M63-190

6.3

19.0

48M63-222

6.3

22.2

48M63-254

6.3

25.4

48M79-158

7.9

15.8

48M79-190

7.9

19.0

48M79-222

7.9

22.2

48M95-158

9.5

15.8

48M95-190

9.5

19.0

48M95-222

9.5

22,2

48M95-254

9.5

25.4

48M111-190

11.1

19.0

48M111-222

11.1

22.2

48Ì111-254

11.1

25.4

48Ì127-190

12.7

19.0

48Ì127-222

12.7

22.2

48Ì127-254

12.7

25,4

Item number

D

Allowance

47M15

1.5

±0.2

47M20

2.0

47M23

2.3

47M28

2.8

47M32

3.2

47M35

3.5

47M39

3.9

47M47

4.7

ÉÖ7Ì63

6.3

S<47M79

7.9

47M92

9.2

Item No.

D

Allowance

W

Allowance

49M19-92
49M19-126

19

±0.2

9.2
12.6

±2.0

49M19-158

1.9

15.8

49M19-190

1.9

19.0

49M19-222

1.9

22.2

49M25-126

2.5

12.6

49M32-126

3.2

12.6

49M32-158

3.2

15.8

49M32-190

3.2

19.0

49M32-222

3.2

22.2

49M32-254

3.2

25.4

49M47-158

4.7

15.8

49M47-190

4.7

19.0

49M47-222

4.7

22.2

49M47-254

4.7

25.4

49M63-190

6.3

19.0

49M63-222

6.3

22.2

49M63-254

6.3

25.4

49M76-280

7.6

28.0

49M95-254

9.5

25.4

49M95-317

9.5

31.7

Item No.

D

Allowance

43SM15

1.5

±0.2

43SM20
43SM24

2.0
2.4

43SM32

3.2

43SM35

3.5

43SM40

4.0

43SM65

6.5

±0.3

43SM70

7.0

43SM80

8.0

43SM90

9.0

43SM100

10.0

43SM125

12.5

Item number

D

Allowance

W

Allowance

56SM15-95

1.5

±0.2

9.5

±0.2

56SM15-126

1.5

12.6

56SM25-126
56SM32-95

2.5
3.2

12.6
9.5

56SM32-126

3.2

12.6

56SM32-158

3.2

15.8

56SM32-190

3.2

19.0

56SM40-126

4,0

12.6

56SM47-126

4.7

12.6

56SM65-126

6.5

12.6

56SM65-190

6.5

19.0

56SM65-254

6.5

25.4

56SM80-158

80

15.8

56SM80-220

8.0

22.0

56SM95-254

9.5

25.4

56SM110-254

11.0

25.4

56SM126-254

12.6

25.4