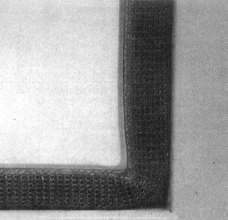 Мягкая прокладка - состоит из сплетеной проволочной сетки ("накидная петля") и полимерной губки для упругости. На проволоке нанесен клейкий слой для установки на поверхность крепления.
Soft Gasket is consist of the knitted wire mesh for conductive material and polyurethane sponge for resilience and pressure sensitive adhesive tape. It is designed for EMI shielding applications requiring low compression force or where unusually wide tolerance gaps exist.
The fine knitted wire mesh provide good EMI shielding and the urethane sponge provide enough resilience properties. This gasket ensure that it will maintain close physical contact with irregular surfaces, even around bends and corners. So, Soft Gasket is suitable for commercial electronic enclosures.
Characteristics
1. Metal knitted wire mesh:

Good corrosion resistance
Good in EMI shielding
Conductive resistance MAX 0.03

2. Polyurethane sponge

Good resilient property
Very speedy recover after removing compression force
30 PPI in density

3. Adhesive tape : pressure sensitive adhesive

4. Temp Rating:-40°C~80°C

5. Shielding effectiveness(25% compressed) E-FIELD: Over 62 dB AT 1MHz Over 57 dB AT 30MHz Over 55 dBAT 100MHz Over 51 dB AT 500MHz
*Maximum compression for normal usage : 20% of original thickness.
*Usage : Telecommunication rack & cabinet/catv cordless phone systems/radar cabinet

| | | |
| --- | --- | --- |
| EXPAN'S PART NUMBER | WIDTH | HEIGHT |
| 43 SOFT 7-7-TW | 7 | 7 |
| 43 SOFT 8-8-TW | 8 | 8 |
| 43 SOFT 9-3-TW | 9 | 3.5 |
| 43 SOFT 9-6-TW | 9 | 6 |
| 43 SOFT 10-5-TW | 10 | 5 |
| 43 SOFT 10-6-TW | 10 | 6 |
| 43 SOFT 13-6-TW | 13 | 6 |
| 43 SOFT 13-10-TW | 13 | 10 |
| 43 SOFT 13-13-TW | 13 | 13 |