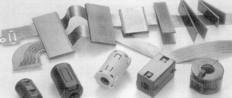 Supression cores are available for a range of cable diameters. Installed around a cable can attenuate any form of EMI emission.
Cases make the assembly of the core halves a snap. Cores are easily installed in eguipment where a retrofit proves necessary. Measures to meet FCC, VDE and VCCL in personal computers, word processors, facsimile units, peripheral terminals.
Typical examples of applications common mode chokes

Nickel-Zinc Ferrite parts are used extensively in the suppression of electromagnetic interference, commonly know as EMI.

In the transmission, reception and processing of electronic data. Suppression of EMI are a major concern. Changing the composition of the Ferrite will enhance the selected frequency ranges.

Basically Ferrite parts are used to rid a circuit of electromagnetic interference. Which is very helpful in all electronic data transferring Basically, Ferrite parts are not too difficult to understand. In either initial designs or retrofits. They are economical In both price and space. Ferrites parts are found in many of our basic home needs. Such as TV, Computers, VCRs and telephone just to name a few.

Please contact us for product catalog and additional, information.
Flat cable Suppression Cores (RP Type)
Measures for eliminating data line noises in such digital eguipment as main bodies, display units, and connecting sections of lap-top personal computers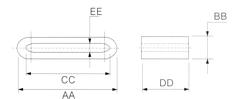 Material
Item
Dimension(mm)
suitable pins
AAx BBx DD
AA
BB
CC
DD
EE
M1
EX RP15.5x4.8x11.4
15.5 I
4.8
12.7
11.4
0.6
9
L52
EXRP 19x6.5x12
19.0
6.5
13.5
12.0
1.5
9
EMU
EX RP 24.5x5x5
24.5
5.0
20.0
5.0
0.75
15
EMU
EX RP 32x5x3
32.0
5.0
27.5
3.0
0.75
21
EMU
EX RP 36.5x5x5
36.5
5.0
32.0
5.0
0.75
25
EMU
EXRP 45x6.5x12
45.0
6.5
40.0
12.0
1.3
30
EMU
EXRP49.6x6.5x12
49.6
6.5
44.0
12.0
1.3
34
EMU
EX RP 56.75x5x5
56.75
5.0
52.25
5.0
0.75
40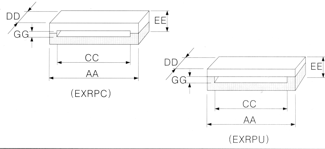 Item
Dimension(mm)
AA
CC
DD
EE

GG

EX RPU 460312-4
EX RPC 460312-8
46
42
12
3
0.4
0.8
EX RPU 460324-4
EX RPC 460324-8
24
0.4
0.8
EX RPU 460512-4
EX RPC 460512-8
12
5
0.4
0.8
EX RPU 460524-4
EX RPC 460524-8
24
0.4
0.8
EX RPU 560312-4
EX RPC 560312-8
56
52
12
3
0.4
0.8
EX RPU 560324-4
EX RPC 560324-8
24
0.4
0.8
EX RPU 560512-4
EX RPC 560512-8
12
5
0.4
0.8
EX RPU 560524-4
EX RPC 560524-8
24
0.4
0.8
Item
Dimension(mm)
Suitable Pins
AA
CC
DD
EE
GG
EX RPC 381310-20
EX RPC 381313-20
EX RPC 381329-20
38.1
26.1
10.0
12.7
28.6
12.7
2.0
21
EX RPC 451310-20
EX RPC 451313-20
EX RPC 451329-20
45.1
34.4
10.0
12.7
28.6
12.7
2.0
25
EX RPC 641310-20
EX RPC 641313-20
EX RPC 641329-20
63.5
52.1
10.0
12.7
28.6
12.7
2.0
40
EX RPC 761310-20
EX RPC 761313-20
EX RPC 761329-20
76.2
65.3
10.0
12.7
28.6
12.7
2.0
50
EX RPC 891310-20
EX RPC 891313-20
EX RPC 891329-20
88.9
78.2
10.0
12.7
28.6
12.7
2.0
60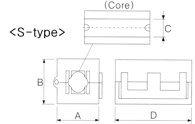 Item
A
B
C
D
Typical Impedance(ohm)
Z-FI Fig
O.

5

turns
1.

5

turns
25MHz
100MHz
25MHz
100MHz
EXCF-655
17.8
19.5
65
32.5
171
325
786
761
CF-01
EX CF-100S
22.3
23.3
10.0
32.6
136
250
643
696
CF-02
EXCF-130S
29.6
30.5
13.0
33.0
155
257
734
734
CF-03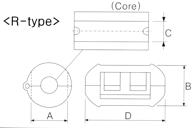 Item
A
B
L
D
Typical Impedance(ohm)
Z-F Fig
O.

5

turns
1.5turns
25MHz
100MHz
25MHz
100MHz
EX CF-35R

1

2.8
14.7
4.0
25.0
82
146
343
536
CF-04-
EXCF-50R
14.5
15.7
5.6
29.0
85

157

364

579

CF-05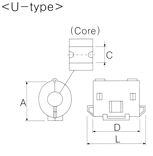 Item
A
C
D
L
Typical Impedance(ohm)
Z-F Fig
0.5turns
1.5turns
25MHz
100MHz
25MHz
100MHz
EX CF-80U1
21.5
8.15
16,8
23.0
42
93
166
392
CF-06
EXCF-80U2
21.5
8,15
19 7 ,
25.8
50
107
199
472
CF-07
EXCF-115U
30.3
11.4
17.7
23.9
51
101
202
441
CF-08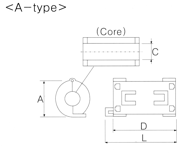 Item

A

C

D

L

Typical Impedance(ohm)

Z-F Fig

O.5turns
1.Sturns
25MHz
100MHz
25MHz
100MHz
EX CF-70A
14.2
7.0
17.6
22.0
51
107
210
440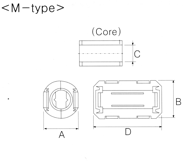 Item
A
B
C
D
Typical Impedance(ohm)
Z-F Fig
0.5turns
1.Sturns
25MHz
100MHz
25MHz
100MHz
EXCF-35M
11.7
13.0
3.5
25.0
139
191
594
566
CF-11
EXCF-50M
'11.7
13.0
5.0
25.0 |
96
154
397
529
CF-12
EXCF-90M
18.0
19.7
9.0
35.0
112
172
484
576
CF-13