WinStress(W.S.T.) is a Windows based utility for exercising and measuring the stability of a system's overall performance. The program can be run directly from a CD. No installation is required.
W.S.T. performs a variety of functions including, Stress Loading, System Performance, and System Inventory. In Stress Loading mode, W.S.T. will simultaneously exercise all major components of the system including: CPU, FPU, MMX, RAM, Hard Disks, CD ROMs/DVD/CDR, Floppy disk, 2D and 3D graphics, Sound card, Printers, COM ports and Network adapters.
In this mode, W.S.T. will allow you to set stress levels to monitor system performance and stability. For example, you can set a very high CPU stress level to see if Windows will crash or CPU overclocking will have adverse reactions to normal operation. Stress levels for all devices can be set at one time giving you a quick report on your system's health.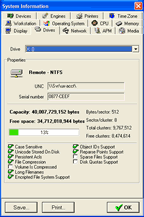 When performing System Inventory, W.S.T. will generate a complete report of the system. The list will include data on: Display, Devices, Drivers, Network configurations, APM, Media, Workstation, Operating System, CPU, Memory, Database Engines, and Printers. This information is ideal for keeping track of your systems and all installed devices. This detailed information can be used by tech support staff for problem resolutions.
With Ultra-X's extensive experience of over 15 years in producing high quality PC diagnostic hardware and software tools, W.S.T. brings a much needed Windows based utility to computer manufacturers and service professionals for evaluating systems and performing uncompromising burn-in, inventory and performance stress testing.

W.S.T. is designed for use by service technicians as well as end users. If you are a service technician, use W.S.T.'s features to isolate system problems, generate system reports and perform benchmarking. If you are an end-user, use W.S.T. as a maintenance and performance utility or burn-in to ensure that you are getting the most out of your system.
W.S.T. works on the following Windows systems: Win9xME/NT/2000/XP/Pro
FEATURES
| | |
| --- | --- |
| | Burn-In |
| | For comprehensive, unattended system testing. Easy configuration allows you to program the test parameters, duration pertest, degree of stress load, and on-error handling. |
| | Comphrehensive Stress Loading |
| | W.S.T. will simultaneously exercise all major components of the system including: CPU, FPU, MMX, RAM, Hard Disks, CD ROMs/DVD/CDR, Floppy or other removable drives, 2D and 3D graphics, Sound card, Printers, LPT/COM Ports and Network adapters. W.S.T. will allow you to set stress levels to monitor system performance and stability. For example, you can set a very high CPU stress level to see if Windows will crash or CPU overclocking will have adverse reactions to normal operation. Stress levels for all devices can be set at one time giving you a quick report on your system's health. |
| | Detailed System Information |
| | Provides a complete report on the system. Select information for Workstation, Operating System, CPU, Memory, All Installed Devices, Engines, Printers, TimeZone, Video Display, Hard Drive(s), Floppy Drive(s), Networked Drive(s), APM, Sound Media, and Network Environment. A newly added feature generates Serial Numbers for All Installed Software. The report provides detailed specifications of installed components. For example, if you want to know what type of CPU you have installed, the CPU Tab will list specifics on Processor Type, Processor Speed, Front Side Bus(FSB) Speed, Number of Processors installed, and Processor features. This information is ideal for keeping track of your systems and all installed devices. This detailed information can be used by tech support staff for problem resolutions. |
| | No Installation Required |
| | The software can run directly from the CDROM without the need for installation. Ideal for technians testing on the field. |
| | Report ID Ticketing |
| | WinStress generates a unique report ID to be used by tech support staff for problem resolutions. |
| | Up-to-date Systems |
| | Perform sophisticated stress testing on IBM and compatible PCs, ranging from older Pentium MMX machines to the latest Intel Pentium 4, AMD Athlon MP, and Cyrix processors. |
| | Multi-Language Support |
| | Multilingual features include: English, Japanese, Portuguese (Brasil) and Dutch |
| | View Active Processes |
| | Monitor running processes. |
| | Windows-Based Utility |
| | Compatible with Windows 95/98/ME/2000/XP |