The RAMCHECK PLUS (p/n INN-8668-PLUS) is our fourth generation computer memory test system that combines the popular RAMCHECK base memory tester and the powerful DDR 184-pin Adapter in one affordable package. RAMCHECK Plus provides the ultimate affordable solution to test all popular memory modules, including DDR, PC150/133/100/66 SDRAM, SIMMs, SODIMMs and even older EDO/FPM DIMMs.
RAMCHECK Plua shown here is a combination package of RAMCHECK and the new optional DDR adapter. While a typical 266MHz DDR needs the test engine to provide only 133MHz (133x2=266), RAMCHECK's 184MHz test capability is well above today's DDR devices!
RAMCHECK is our most advanced memory tester and is the latest in our product line. Highly modular and user friendly, it redefines the capabilities of an affordable and portable memory tester. The newly designed 184MHz test engine and scaleable data interface provides faster tests and gives you a higher resolution of timing measurements. RAMCHECK's architecture has been optimized to better support the memory devices of today and tomorrow. RAMCHECK supports all popular Registered, Unbuffered, ECC and non-ECC Parity DIMMs.
RAMCHECK is the only tester that automatically identifies and tests both SDRAM and older EDO/FPM DIMMs on the same 168-pin test socket. Optional RAMCHECK adapters support numerous types of memory devices, including DDR, SO DIMMs, old SIMMs, individual chips, and more.
Using our enhanced proprietary algorithms, RAMCHECK runs a thorough test on today's DDR/SDRAM/EDO/FPM memory modules, testing every memory cell. All chips are tested simultaneously to yield a faster test and to enable the instrument to detect errors that are caused by interference among the chips on the module. RAMCHECK is not merely a go/no-go tester. In fact, it explicitly identifies the faulty bits within a defective module, giving specific pin number information relating to the problem chip. While 100% accuracy in memory testing is technically impossible, RAMCHECK achieves a high degree of accuracy in detecting bad memory devices.
Don't let RAMCHECK's small size deceive you! This tester is fully loaded with state-of-the-art electronic circuitry.
Although RAMCHECK is essentially a stand alone unit, it comes with PC Communication software that allows it to print and log test reports, and to update its stand alone firmware via the Internet.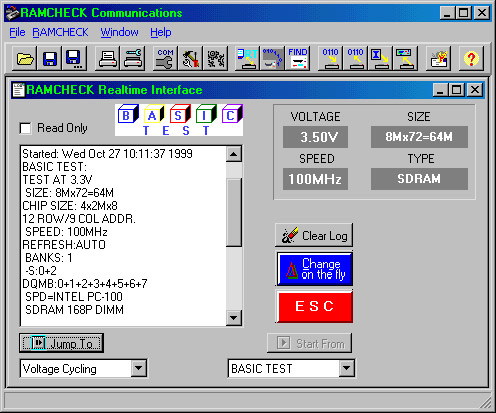 ATTENTION SIMCHECK II OWNERS!

To support our large installed base of SIMCHECK II customers, we have designed the new RAMCHECK so that every SIMCHECK II or SIMCHECK II se can be affordably upgraded to the RAMCHECK level. This upgrade is available now and you can save up to 45% off the price of a new RAMCHECK. Click here to find out more about upgrading your equipment to the RAMCHECK level.
Since RAMCHECK is fully automatic and user friendly, anyone can use it with great ease. Its full graphics LCD display shows clear instructions and test results. It has a Zero Insertion/Removal Socket for 168-pin DIMM modules. Add-on adapters employ a similar high-quality socket for 144-pin DIMMs, or older style 30-pin and 72-pin SIMMs.
Pressing one button starts the fast BASIC test which automatically measures and displays the module size, Mode Type (SDRAM/EDO/FPM), Access Frequency (or Access Time/Cycle Time for non-SDRAM devices), Cycle Time measurement and more. The BASIC test checks for wiring and verifies that all memory cells are sound. The EXTENSIVE test automatically follows with Voltage Cycling and Voltage Bounce tests which verify the module performance under varying voltage conditions. The March Up/Down algorithm detects interference among cells. Various tests like Relative Refresh and Relative Spikes provide detailed insight into the quality of the tested module. Our proprietary Chip-Heat mode automatically warms the chips for temperature related speed measurement at the end of EXTENSIVE test. The AUTO-LOOP test provides the perfect burn-in means for your memory modules, as well as additional pattern testing.
RAMCHECK incorporates additional setup capabilities over our standard SIMCHECK II setups to satisfy the needs of even the most advanced and demanding engineers.
Just as you would expect, RAMCHECK can easily be upgraded and expanded to protect your investment. This goal was achieved using modern FLASH EPROM technology and a PC Windows companion program which allows you to download the firmware from this Internet website or from a distribution diskette. RAMCHECK comes with a built-in serial interface and is packaged with all you need for an easy connection to the PC.
With its four expansion sockets, RAMCHECK is a highly expandable and modular tester. In addition to the add-on devices available, we are continuously developing more optional adapters to support future memory technologies.
RAMCHECK Is Powerful, Yet Easy To Use
These actual screen images of RAMCHECK's display illustrate its power, ease of use, and versatility.
| | |
| --- | --- |
| | Clear messages identify good and bad modules. Successful tests result in high pitch beeps, while errors sound low pitch signals. |
| | Scrollable error menus provide a graphic display of the error and its associated pin number. |
| | Address wiring errors are explicitly shown. |
| | Variations from the standard devices are clearly indicated. |
| | Structure information at the end of Basic Test indicates which control signals are used! |
| | A detailed Test Log including all the test results can be viewed after every test by simply pressing F4. |
TEST PHASES:
RAMCHECK tests have been significantly enhanced over our previous generation, resulting in more support for today's memory devices, as well as added test results not available before.
| | |
| --- | --- |
| | BASIC Test quickly checks all the wiring and all the memory cells. Speed shown here is 133MHz. |
| | EXTENSIVE Test includes many tests that give you more insight into the quality of your memory. |
| | AUTO LOOP Test checks the memory with endless changing patterns. It is also perfect for burn-in operation. |
SETUP:
| | |
| --- | --- |
| | Menus for setup and other operations are clear and interactive. |
| | Graphic setup of timing parameters will please most advanced users. |
| | Detailed setup list keeps track of all (optional) changes you made to the default program. |
FEATURES & BENEFITS
Saves you time by quickly testing your memory on RAMCHECK, not inside your computer.

Saves you money by checking and identifying all your expensive inventory of memory modules.

RAMCHECK has a 184MHz test engine, parallel data access capability, and state-of-the-art timing circuitry to give you features heretofore available only in expensive desktop testers. Its 184MHz test capability translates to 184x2=368MHz DDR, which is more than adequate for today's 266MHz DDR devices!

RAMCHECK's modular design and its variety of existing and planned adapters provide you with a broad coverage of today's and future memory technologies.

Fully and quickly test today's PC-150/133 SDRAM technology at actual clock speeds with our 184MHz test engine.

Get size, speed, memory type and detailed structure information with a single push of a button. Automatic tests provide full support for SDRAM/EDO/FPM without the need for special setup.

Setup and Change-On-The-Fly utilities for user-defined tests and parameters fulfill the requirements of the most advanced users.

Upgrade easily with FLASH EPROMs via the Internet.

Complete support for Serial Presence Detect (SPD) data, including reading, editing, and programming.

Use it as a stand alone tester, or connect it to your PC via the built-in PC serial interface.

Snap-in expansion ports for a variety of add-on adapters.

Features a Zero-Insertion-Force socket for testing 168-pin DIMMs.

100-240 VAC 50/60 Hz Universal Switching Power Supply.

Includes carrying case.
Dimensions: 9.5"x6.3"x2.5". Net Weight: @4 lbs.
The RAMCHECK package includes:
| | |
| --- | --- |
| · | RAMCHECK p/n INN-8668 |
| · | A Universal 240/100VAC Switching Power Supply |
| · | A Serial Cable |
| · | CD Companion (Includes detailed RAMCHECK Manual & PC Programs) |
| · | 50-page Printed Manual |
| · | A Carrying Case |